Gorillaz (Plastic Beach) - To Share Brewing (Swurtle)
Music genre:

Alternative / Hip-Hop
Plastic Beach
Right from the get-go, Plastic Beach is an inviting tropical visit as the orchestral intro seamlessly transitions into a more Gorillaz-like beat with Snoop Dogg to back them up. The third album from the Gorillaz has been celebrated for years as a supersonic album of excellent features, intoxicating production, and its ability to catch new listeners off guard by who shows up. I remember listening to this the first time and being blown away that De La Soul and Lou Reed were on the same album together. Both tracks these two are separately on are fantastic. De La's humor works perfectly with the fun, easy-going feels of Damon Albarn and Jamie Hewlett.
Gorillaz
Ex-Blur frontman Damon Albarn ditches the idea of writing pop songs a cartoon band might front and makes one of his most gorgeous pop records in years.
Swurtle
by To Share Brewing
Lightly hazy lemony gold in color with a frothy white head that slowly recedes. Earthy grassy citrus and tropical fruits against a sweet bready backbone.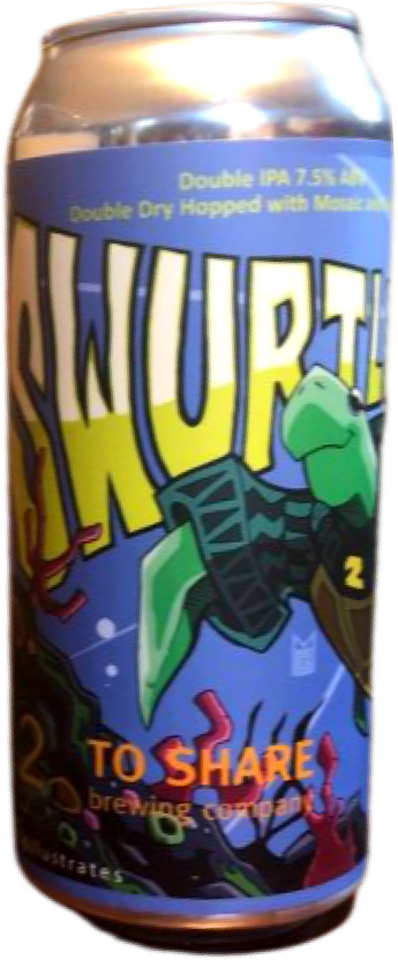 high-octane energy
The twist and turns this album take are on another level for me. The trilogy of songs starting with "On Melancholy Hill," is exciting. It's easy to catch your heart swell with emotions when the first begins. "On Melancholy Hill," is one of my favorites of all time as it lifts myself off my feet with joy while the heavy synths hook me in a reminiscent-like state. "Broken," keeps the dramatics going with Albarn's lyrics and production casting somewhat of a gloomy shadow over the track. It all explodes with "Sweepstakes," a club exploding song with Mos Def featured. This constant shift of production, pathos, features, lyrics, and atmosphere form a wonderful album brimming with personality. Each Gorillaz album, in my opinion, is defined by their features as some of their biggest hits feature someone outside the group. Plastic Beach brings together excellent artists to a place where the neon green palm trees sway and the party never dies. Even when the celebration does, you get lost in tranquil, soothing beats. "Empire Ants," is a light-hearted song to pace out the high-octane energy of others. No matter where you leave yourself, Plastic Beach is a fantastic album from the Gorillaz.
The last song is "Pirate Jet," where Albarn sings, "We left the taps running for a hundred years." If I were to pick a beer that pairs well with an island getaway, it would surely be Swurtle, an amazing Double IPA from To Share Brewing Company. Their Manchester, NH taproom is warm, inviting, and perfect, offering unique art on the walls and plenty of options on tap. At the end of my recent trip, I had to go home with Swurtle.  If the pirate jet had this rich and tropical IPA on tap, I'd be stumbling off the runway upon arrival. The generous hop-build brings a great mouthfeel and it's so damn delicious. The juicy, tropical flavors are abundant, while the 7.5% ABV leaves you able to sip and relax. This is the perfect beer for any big hop head. 
Next Pairing